Dr. Qaisar Khan And Dr. Behzad Molavi performed their first VenaSeal Closure treatment at Advanced Heart And Vein Center in Westminster Colorado. It is a new walk-in, walk-out treatment for varicose veins that uses a medical grade super glue to close off the veins without the need for multiple injections.
A patient reported to Advanced Heart And Vein Center with the complain of significant leg swelling. After performing venous ultrasound – a test to evaluate the venous blood flow to the legs- it was determined that he had venous reflux (Venous Insufficiency) that was causing the leg to swell. Dr. Khan and Dr. Molavi selected Venaseal Closure treatment by Medtronic, as it is designed to close superficial veins of the lower extremities, such as the great saphenous vein, with a proprietary medical adhesive, in patients with symptomatic venous reflux.
Patients are often under impression that varicose veins are only a cosmetic issue, however it might be a sign of venous insufficiency.
After three months patient returned to our vein clinic for follow up and the results of the improvement were astonishing. His leg returned to a normal size and does not cause any discomfort.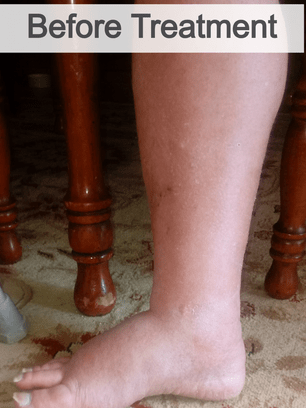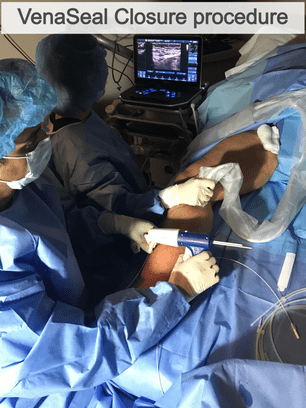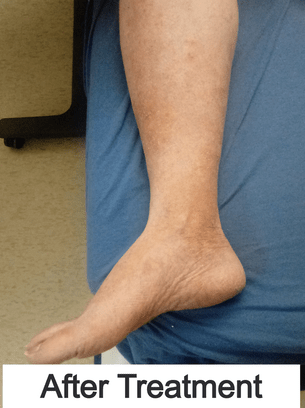 With patient James F.'s permission we would like to share his personal story:
"James was born in Aurora, Colorado in early sixties. His father was in the Air Force so James traveled the first few years of his life to multiple states, and lived in Scotland, UK for a few years as a young child. At the age of 4 years old while in Tennessee, James was diagnosed with Von Recklinhausen's Disease (Neurofibromatosis) commonly known as the "Elephant Man Disease".
Due to this disease James lost his left leg at the age of 4 years old as the fibromas turned to cancer which they removed at the hip socket. The disease caused him to loose most of his eye site due to Glioma which is fibroma tumors on the nerves of the eyes, which he had to have surgery to save some of his site. It also caused fibromas in the ear canal which again he had to have surgery to save his hearing.
During the Vietnam War while James was in Tennessee, he would see soldiers that were depressed from losing limbs. James would visit them in the hospital and the soldiers would tell James that he was an inspiration to them to keep fighting. James was fitted with a prosthetic leg as a child, however as he grew the amount of money that the prosthetic leg cost, insurance would no longer pay to have new ones made every time James grew, so James quit wearing the leg altogether. He since used Canadian crutches .
As time has gone by James acquired Scoliosis because without the left leg he sits crooked, so his back always hurts, and his hands and wrists hurt from putting pressure on them for 53 years.
James graduated from Centaurus High School in Lafayette, Colorado. After high school James attended Job Corp in Ogden, Utah where he studied Culinary Arts. In the early 90's James was employed with Barber's Poultry plant in Broomfield, but when they moved to Longmont James did not go with, as it was too far to travel. James has been disabled his entire life and has never driven a car. James traveled to Las Vegas, Nevada and stayed there for a few months to help care for his nephew. James has always loved children. Children are always interested in James and ask about his missing limb, and James always takes the time to explain.  The disease causes pain throughout the body, so James is always in pain, but you will never hear him complain, he says there are others worse off than he is. His famous saying is "I'm fine"!  James is on 24/7 oxygen, because of the disease.
In James's spare time he loves to watch Ghost stories and cooking channels. He loves to play on his computer and his favorite game is the Sims. He has played it since 2000! James has never felt sorry for himself. He helped raise his niece and now James looks forward for his great niece graduating high school. James loves life and loves his family and that keeps him fighting!"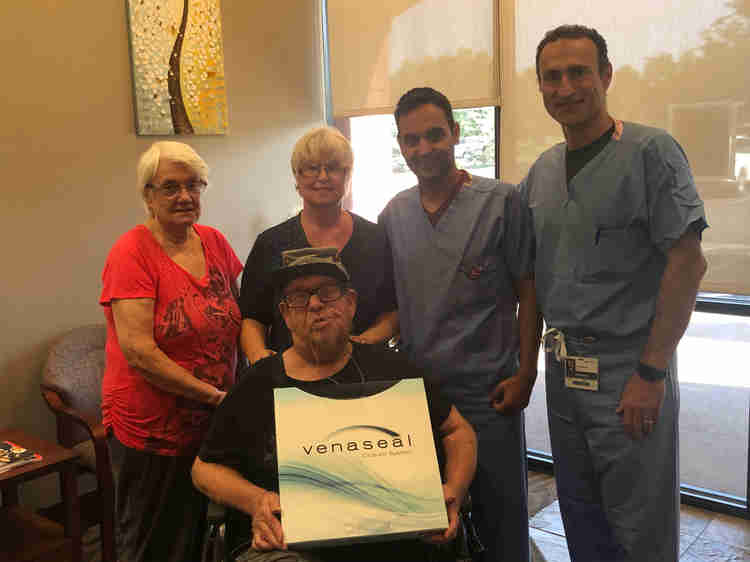 First VenaSeal patient James and his caring family with Dr Khan and Dr Molavi at Advanced Heart And Vein Center